Auto rental for meeting VIP guests at the airport
We offer Bentley Flying Spur rental in Kharkiv +380506333125
Life in the metropolis differs with blistering rhythm and catastrophic lack of time, especially in business people's world. When you arrive at a strange city by plane or train, many people get lost among abundance of too unwanted taxi drivers. But before you agree to this trip, remember, that this market is monopolized and offers too high prices with minimum comfort. The car with a driver for meeting at the airport is a great way.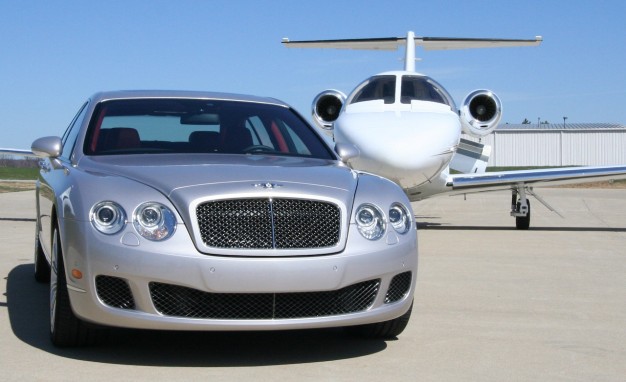 Auto for meeting VIP guests at the airport is an actual service, which save your time, nerves and money. Using this opportunity, you can choose a car based on your preference and your customers or business partners are not just waiting for a pleasant trip, but also a gallant driver, who will help to carry your luggage and introduce to a new city.
Auto rental for meeting foreign guests – service advantages
Our company provides high quality services to transfer passengers, we provide only premium class cars, which are characterized by reliability comfort and safety. You can rent Bentley for meeting important persons or use this service at your pleasure. Any way we guaranty a comfortable trip and other advantages including:
Auto rental, which will be meet you demands. Be it for good or for bad, it will be a new completely working car, which regularly stands detailed technical inspection;

The transfer service releases you from unnecessary feelings, vanity and troubles to choose the acceptable transport. Among other things, during trip you can decide important questions and change the route in accordance with your plans ;

Big suitcases? This problem will not cause a headache, just enjoy your trip;

The meeting important guests by Bentley at the airport can be organized as for one person, as for a small group of people, herewith nobody has to stand in a line and wait for a transport. Even if the flight is delayed, a driver will wait for arrival of guests;

VIP service is a transport service, which gives special attention to transport quality. If you need business class sedan and rental with a driver from Kharkiv airport, we can organize it with ease. Also we are ready to organize different courtesies by way of flowers, cold drinks and other services ;

In spite of wide spread opinion, such service is very available, if you want to be sure, contact one of our managers for improvement further particulars;

And the last, a personal transfer is one of the most comfortable ways to travel, unlike the trip by public transport, which you don't want to repeat. In every way our company is ready to help your convenience and leave only pleasant sensations from the trip. If you want to make the order, connect us on the phone on our website.
This post is also available in: Russian